About Us
Increasingly local authorities are adopting a hub model to deliver services in their areas. Kirklees are no different and asked schools to collaborate to create "Community Hubs" across the locality.
In response, the BBEST Community Hub CIC was formed in 2016. We are a group of 21 schools in Batley and Birstall who are working together to help each other support the families of the children in their care.
Our BBEST Community Hub is working for the families of more than 8000 children locally. We represent approximately 11% of the schools in Kirklees and 14% of the school children in Kirklees. We work with Health Services, Social Services, local Community Groups etc to bring support into our area for our families.
There are 17 such Community Hubs in Kirklees – which differ in size, make up and priorities but all are made up of schools.
The Hub was formed in 2016, and set out its goals as
To position the Community Hub at the heart of the community-so that no individual is left behind
To create responsive, sustainable and effective support systems valued by all our schools, partners, children and families
To offer wraparound support to our children to benefit our community
In 2016 we created a Message Triangle to explain more about our goals: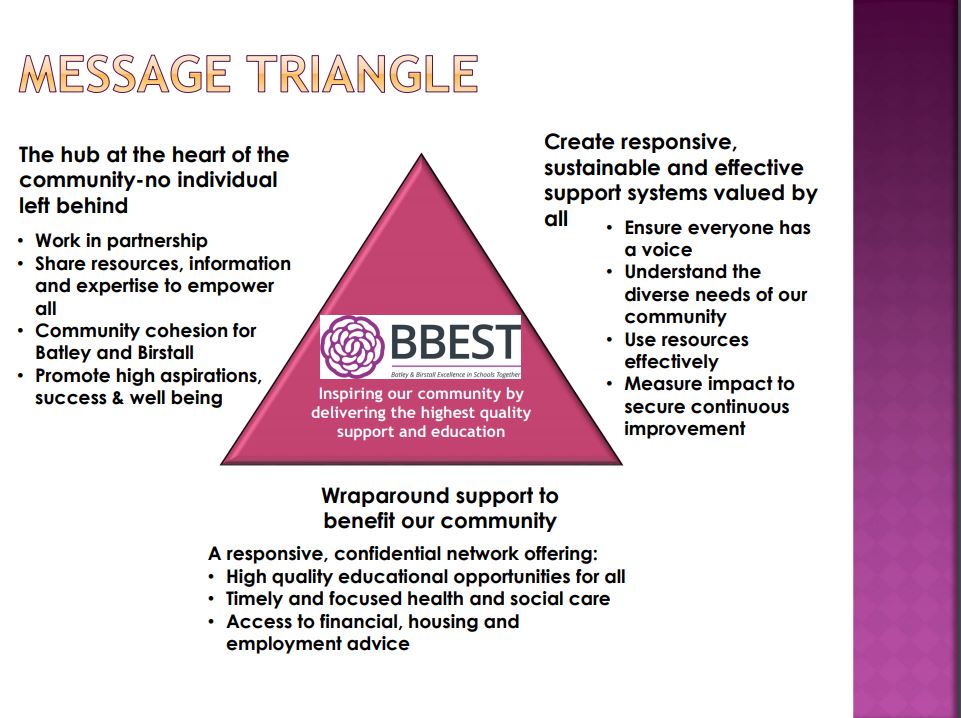 Put simply, we want to support our community so that our children can learn effectively and reach their full potential in our schools.
These principles have not changed and from them we have been able to set out our vision and priorities for 2020-21:
Our Vision:
Meet the needs of our children, from cradle to career, such that they can benefit fully from the teaching and learning within their schools and develop into healthy and productive young adults.
Create collaborative, constructive links within the schools network and between different agencies to ensure effective and efficient and targeted use of scarce resources for the benefit of the families of the children in our care.
We have set our priorities by
Working with our families to UNDERSTAND what they NEED and what they WANT for their children and community
Working with our school staff to UNDERSTAND what issues our children and families face
Working with local and regional partners to identify what is AVAILABLE for our children and their families
Working with local agencies to design, restructure and allocate limited resource into our area.
In 2021 we will be working on
Improving "School Readiness" at each transition stage
Supporting our families' mental health
Supporting a cohesive community
Creating a resilient community, specifically empowering our women and children
Becoming a Communication HUB for Batley and Birstall community
In practice, this means our schools will work together to
Bring in support for those children and families that need it – this may be professional support, therapeutic support and/or crisis support.
Identify support and resources needed in the area to strengthen the community – this may be activities for children, adult education for families, self-help and support groups for individuals.
OUR SCHOOLS
BBEST Area Map
The below map lists the BBEST schools along with our FareShare schools (yellow circles), and Food Banks in our hub area.
OUR PARTNERS
The Hub works with partners from the local authority, health professionals and third sector/voluntary organisations.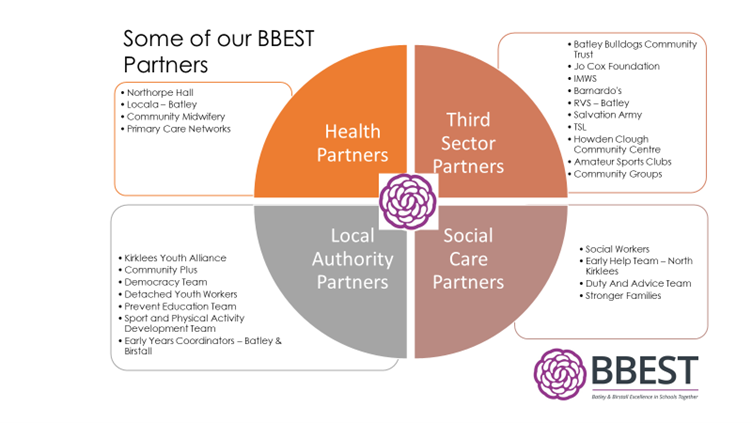 Find out more in our BBEST Hub Updates