BBEST Certificates of Recognition
Here at BBEST we love to celebrate our local community. We have seen a lot of examples of organisations and individuals who have supported the families in the Batley and Birstall area through these difficult and unprecedented times.
We have decided to award BBEST 'Certificates of Recognition' to show our appreciation for all their kindness, support, and hard work.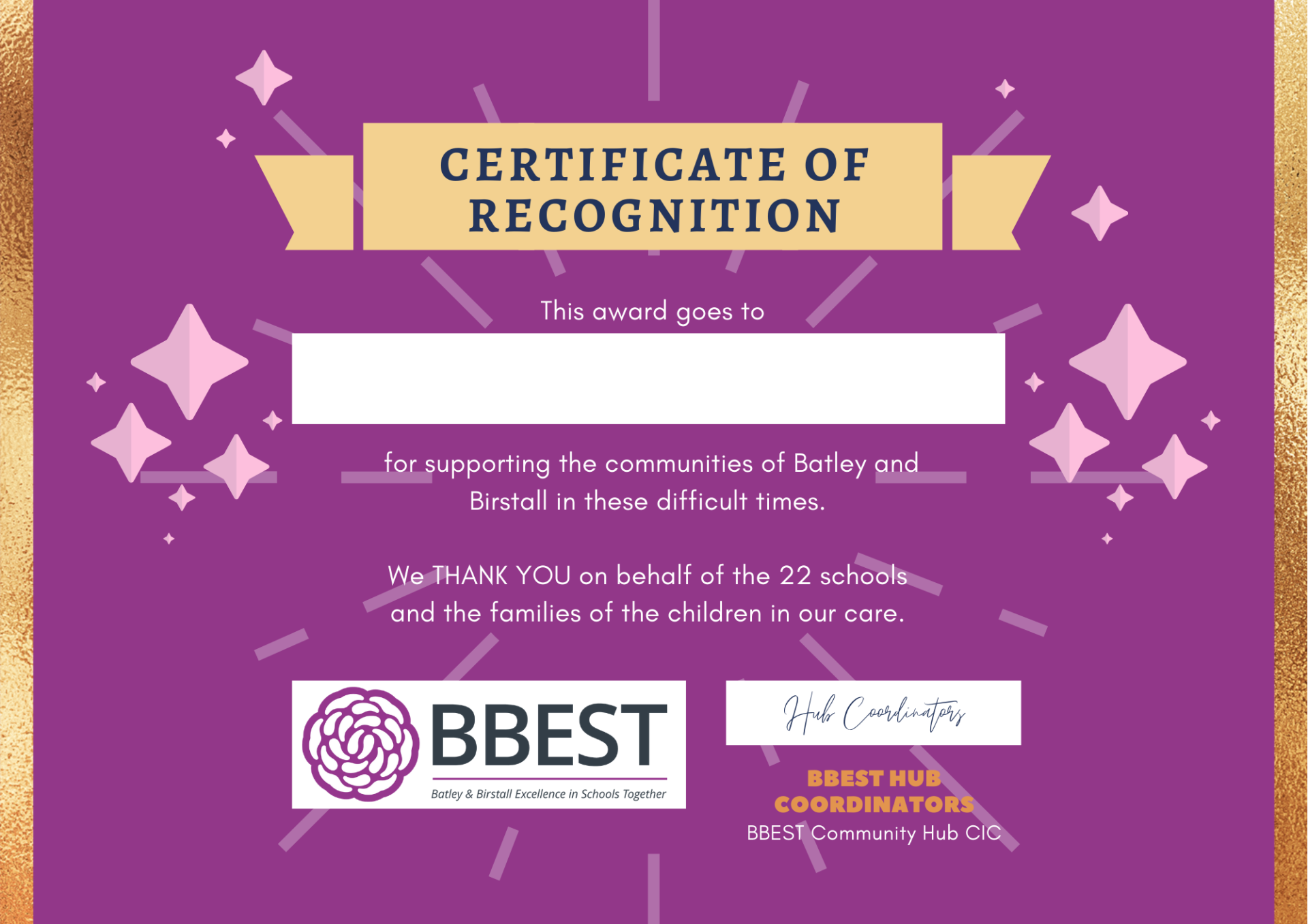 Congratulations! Thank you for your commitment to the community.
Nominations
Nominated by Luisa Lang, Healey School Headteacher
-Lorna Stephen
-Abid Hussain
-Michaela Widdop
-Julie Knapton
-Kim Bradshaw
For their tremendous job in supporting children and families by distributing food hampers; making daily and weekly checks on children; providing books and art resources and taking them to homes; interpreting and helping with benefit forms; not having any time away from school during this whole lockdown period.
-Diane Yarrow -Gosia Ingleby
For hiring and driving a minibus and taking individual families (with many children in the family) out on day trips for picnics and to give respite.
---
Nominated by Sam Vickers, Upper Batley High School Headteacher
-Irene Spears
For making gingham face masks for the Great Get Together
-Curt and Louise Farrar
For making the face shields.
---
Nominated by David Cooper, Co-Head at Batley Girl's High School
-Noshin Raja -Sue Pavitt
Nominated by Sam Vickers, Upper Batley High School Headteacher
-Aman Kang

-Lindsay McLean

-Jo Grogan

-Shakila Khan

-Zianab Mayet

-Jamie Weavill

-Mohammed Sattar

-Debbie Radcliffe

-Gareth Cutler

-Louise Farrar

-Curt Farrar

-Jo Sanderson Dent

-Habib Siddique

-Ibrar Hussain

-Farai Nyamundai

-Dan Bamfield

-Sam Rodwell

-Eve Hearsum

-Olivia Paris-Parker

-Debbie Dobson

-Angie Garside

-Andrew Wilson

-Nial Sherrard

-Davinda Gomersal
---
To all staff at
-Upper Batley High School

-Birstall Primary Academy

-Carlton J & I School

-Batley Parish CofE School

-Carlinghow Princess Royal Primary

-Fieldhead Primary Academy

-Field Lane J I & N School

-Healey J I & N School

-Hyrstmount Junior School

-Engage Academy

-Reach Academy

-Batley Girls High School

-Lydgate J & I School

-Manorfield J & I School

-Mill Lane Primary School

-Park Road J I & N School

-Purlwell Infant School

-Staincliffe CofE Junior School

-St Peter's CofE JI&EY School

-Warwick Road School

-Windmill CofE School

-Batley Grammar School
For all your tremendous dedication in making sure our children and their families have been supported throughout the lockdown period. For all the hard work you have put into making sure your school was safe to return to. For looking after each other and our whole community.
Nominated by BBEST Community Hub CIC
- Salvation Army, Batley
- Dawatal Islam Mosque and Soothill Community Association
- Mount Cricket Club
- Avolve Wellbeing
- Training Cave Boxing Gym
- Royal Voluntary Service (West Yorkshire)
- Batley Bulldogs Community Team
- Batley Food Bank
- Al Mubarak Foundation & Loving Hands Outreach Team
- Batley Homeless Project
- Howden clough community centre
- Tesco Batley and Tesco Cleckheaton
- Andy's Man Club
- Batley Smile
- Birstall Community Partnership
Thank you for all your tremendous dedication and commitment to the people of Batley, Birstall and surrounding areas. Thank you for all your support, kindness and hard work.
Also nominated by BBEST Community Hub CIC are our local councillors:
Cllr Shabir Pandor

Cllr Gwen Lowe

Cllr Yusra Hussain

Cllr Habiban Zaman

Cllr Fazila Loonat

Cllr Mahmood Akhtar

Cllr Elizabeth Smaje

Cllr Mark Thompson

Cllr Joshua Sheard
Thank you for your financial support to our BBEST Schools this year, supporting lots of fantastic initiatives and ideas.