Thriving Kirklees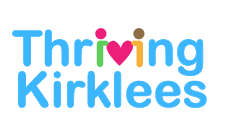 Thriving Kirklees is a partnership of local health and wellbeing providers all working together to support children, young people and their families to thrive and be healthy.
Thriving Kirklees offers a wide range of services:
0-19 Team (Health Visiting and School Nursing)

0-19 team works with children, young people and families in Kirklees supporting you and your child to improve your health and avoid illness.

Services provided by the Thriving Kirklees 0-19 Team include:

Health Visiting
School Nursing
Breastfeeding Support
Family Nurse Partnership

Visit: www.thrivingkirklees.org.uk/0-19-team/

Children and Adolescent Mental Health Service (CAMHS)

This service offers assessment and interventions for children and young people (including those with learning disabilities) who have persistent and significant difficulties with a range of mental health issues.

www.thrivingkirklees.org.uk/children-and-adolescent-mental-health-service-camhs/

Assessment and Diagnosis of Autistic Spectrum Conditions

Supporting children and families through assessment and diagnosis to gain a better understanding of their children's needs.

www.thrivingkirklees.org.uk/autism-spectrum-conditions/

Home-Start Kirklees

Home-Start Kirklees offers unique support for parents to help grow their confidence and strengthen relationships with their children. The scheme helps parents to reduce feelings of isolation, become more resilient and cope with the challenges of being a parent.

A team of trained volunteers, who are usually parents themselves, offer support matched to each family's needs.

www.thrivingkirklees.org.uk/home-start-kirklees/

www.thrivingkirklees.org.uk/home-start-kirklees/home-start-support/

Safety in the Home

If you live in Kirklees and have a child under 2 years old you could be entitled to FREE home safety equipment supplied and fitted in your property. You will also receive home safety information and advice.

www.thrivingkirklees.org.uk/safety-in-the-home/

Safety Rangers

Safety Rangers is an interactive accident prevention scheme for Year 5 pupils attending Kirklees primary schools.

Safety Rangers aims to help reduce and prevent accidents through fun teaching methods and scenarios. Topics covered include home fire safety, road safety and anti-social behaviour.

www.thrivingkirklees.org.uk/safety-rangers/

Kooth - Anonymous, online counselling and support service for children and young people

Kooth is a confidential and anonymous way for Kirklees young people to gain advice, support and guidance from qualified counsellors. It's available up to 10 o'clock at night, 365 days a year. It's accessible through mobile, tablet and desktop and free at the point of use.

www.thrivingkirklees.org.uk/kooth/

TK Parents - FREE online courses

A new set of FREE online courses are available for people across Kirklees.

The four courses are:

- Understanding Pregnancy, Labour, Birth and Your Baby

- Understanding Your Baby

- Understanding Your Child

- Understanding Your Teenager's Brain

www.thrivingkirklees.org.uk/tkparents/

Children's Emotional Health and Wellbeing Service (ChEWS)

This service helps children and young people aged between 5 and 18 through short-term mental and emotional health support including:

• counselling and therapeutic group activities
• One-to-one support
• help accessing services.

www.thrivingkirklees.org.uk/childrens-emotional-wellbeing-chews/

This service is delivered by the Northorpe Hall Child & Family Trust:

Healthy Start Vitamins

'Healthy Start' is a Government programme which replaced the previous welfare food scheme and is designed to provide financial help to improve nutrition of families receiving certain benefits and mothers under 18 years of age. Qualifying pregnant women and families with young children are provided with vouchers which can be used to buy milk, fresh fruit and vegetables and infant formula.

ChatHealth - text messaging service for children and young people and parents/carers

ChatHealth is an award-winning text messaging service which is available for Kirklees' young people aged 11 – 19 years. They can receive advice from Thriving Kirklees nurses on subjects including sexual health, emotional health and wellbeing, bullying, healthy eating and any general health concerns.

In addition, parents/carers can contact the service too for advice and help on health and well-being issues relating to their children. The text number for parents to contact Thriving Kirklees nurses is: 07520 618867.

Volunteering with Thriving Kirklees

Thriving Kirklees partnership offers a range of volunteering opportunities that help support children, young people and their families right across Kirklees.

Thriving Kirklees offers a variety of different roles across their partners – Locala, South West Yorkshire Foundation NHS Trust, Yorkshire Children's Centre, Northorpe Hall and Home Start Kirklees.